Chris James Champeau
Director, Editor & VFX
Los Angeles, CA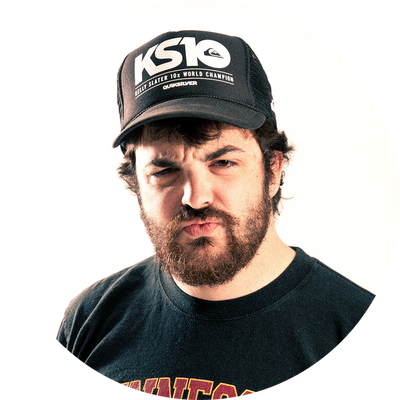 Chris is a highly skilled and innovative Director, Editor, and Visual Effects Artist based in Los Angeles, California. With an extensive background in the industry, Chris has worked on a wide range of projects, from feature films and television to commercials and music videos. He is passionate about creating visually stunning and impactful commercials that capture the essence of a brand and leave a lasting impression on audiences. Chris is known for his exceptional skillset, attention to detail, and commitment to excellence, making him a go-to resource for clients looking to create compelling and unforgettable content.
Chris James Champeau, also known as Champ, was born in rural Wisconsin. Growing up in the countryside, Chris had a relatively normal midwestern childhood; filled with camping, weather, comfort food, and of course Football. Although he was a four-sport athlete, participating in swimming, cross country, track, and triathlons, the arts always held a special place in his heart. Chris attended art courses at the University of Wisconsin-Green Bay and Northeastern Wisconsin Technical College as part of the Gifted and Talented Program. During his middle school years, he ran the student's stage crew and built sets for stage plays like Bugsy Malone and Annie. As his passion for art grew, he began creating films in high school, earning nominations and awards at various small film festivals in the Midwest. Chris went on to attend the University of Wisconsin - Milwaukee to study Film and pursue his dreams.
However, after just one year at the University of Wisconsin-Milwaukee, Chris felt disenchanted with higher education and decided to pursue his dreams in Los Angeles. He left UWM and enrolled at the Los Angeles Film School, where he directed two short films, Road Block and Murdrum, both of which received numerous festival selections. Chris excelled in his studies and graduated from the LA Film School with top honors, showcasing his exceptional talent and dedication to the craft.
After graduation, Chris worked on various small gigs for companies such as Funny or Die, Red Bull Music, Poya Pictures, Alter Ego Industries, and Dreamseek Entertainment. Interestingly, someone mistook him for a gaffer at one point and kept hiring him for the role which led to a brief period teaching cinematography at the New York Film Academy. However, in 2011, Chris landed a full-time position at Dave Stewart Entertainment. Here, he directed and edited several music documentaries, while also working on dozens of music videos and some commercials.
"CHRIS IS A VISIONARY DIRECTOR, EDITOR, VISUAL EFFECTS VIRTUOSO"
- DAVE STEWART
After several years at Dave Stewart Entertainment, Chris decided to venture out on his own and start his own and founded Glass Half Bourbon, a post-production services company based in Los Angeles, California. With a diverse range of experience in the industry, Chris has worked with various companies such as Eyeboogie Inc, the Travel Channel, Invelop Entertainment, Midnight Oil, Concourse Media, Kovel Fuller, and others. His work has spanned across multiple parts of the filmmaking process, from development to social media advertising, and has included projects ranging from television and feature films to commercials. Currently, Chris is working with clients such as The Woo and Hecho Studios on a wide range of projects. His exceptional skillset, attention to detail, and commitment to excellence make him a valuable asset to any project.
In his personal life, Chris is happily married to the love of his life, Kendra, who is a talented and successful commercial actress. They share a passion for vintage trucks and spend many weekends tinkering in the garage, restoring and customizing their beloved vehicles. When Chris isn't covered in grease, he enjoys unwinding with a few rounds of simulation racing on iRacing, where he can indulge his need for speed without risking life and limb. At home, they are accompanied by their loyal and energetic dog, Michael, whose playful and mischievous personality never seems to fade, no matter how old he gets.